The 23rd IEEE International Conference on Business Informatics (IEEE CBI 2021) will be virtually held between the 1 and 3 of September of 2021, with all sessions live between 12:45 and 18:30 (in Central European Summer Time – CEST).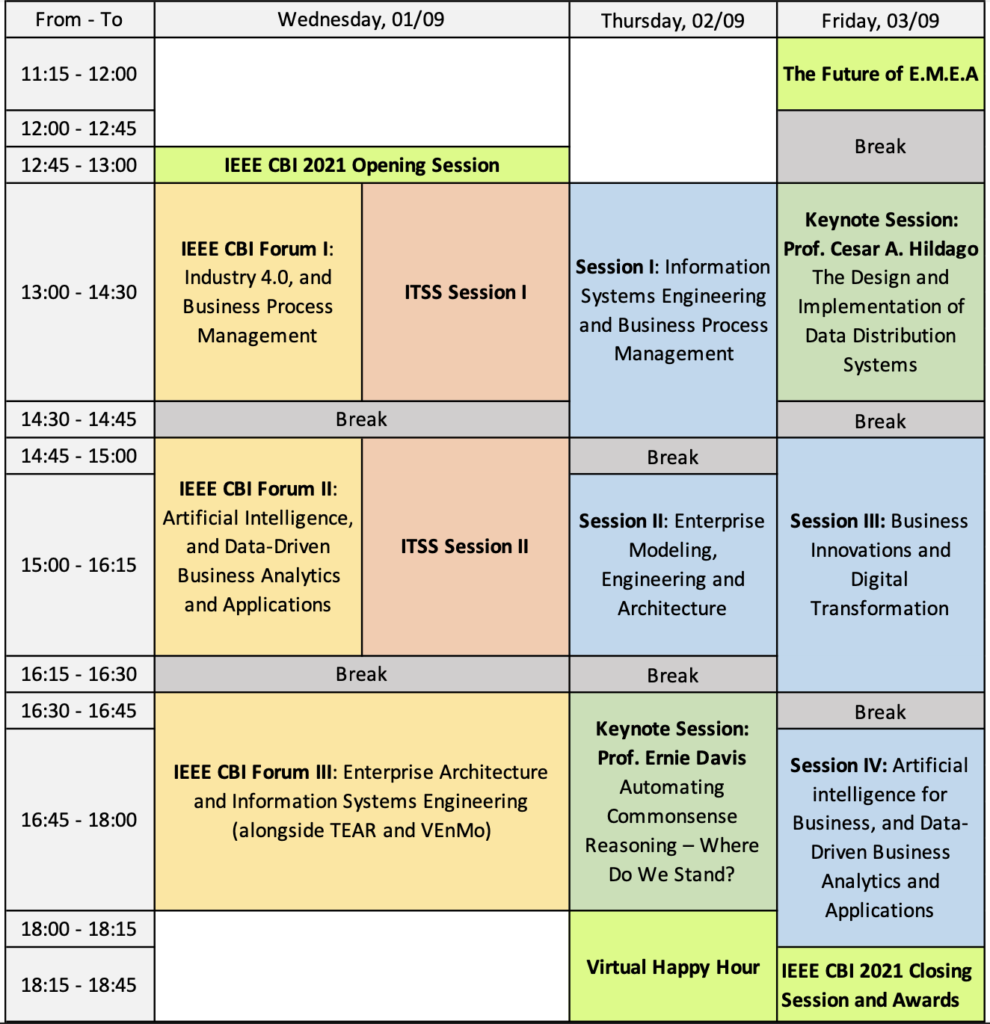 Here you can find the updated program of IEEE CBI 2021. To receive the links to all sessions and resources via e-mail, please make your registration here.
Wednesday, 1 September 2021
IEEE CBI Forum I: Industry 4.0, and Business Process Management
Chair: Manuel Wimmer
Towards a Reference Architecture for Future Industrial Internet of Things Networks
Dominik Martin, Niklas Kuehl and Marcel Schwenk
Towards a Comprehensive Methodology for Modelling Submodels in the Industry 4.0 Asset Administration Shell
Cornelis A. Bouter, Monireh Pourjafarian, Leon Simar and Robert J. W. Wilterdink
A Training Concept Based on a Digital Twin for a Wafer Transportation System
Germar Schneider, Moritz Wendl, Stela Kucek and Maria Leitner
A Mass Customization Approach to Business Process Modularization
Ton Soetekouw, Paul Grefen, Irene Vanderfeesten and Oktay Turetken
Modelling Production Workflows in Automotive Manufacturing
Simone König, Birgit Vogel-Heuser, Etienne Fieg, Michael Hahn and Oliver Kopp
Challenges and potentials of order-specific individual manufacturing: A case study from tool making
Lea Mayer and Peter Fettke
IEEE CBI Forum II: Artificial Intelligence, and Data-Driven Business Analytics and Applications
Chair: Ann-Kristin Cordes
Inside the black box: using Explainable AI to improve Evidence-Based Policies
Maxwell S. Carvalho and Gladston Luiz Silva
Share of Toxic Comments among Different Topics: The Case of Russian Social Networks
Sergey Smetanin and Mikhail Komarov
Predicting the Distress of Financial Intermediaries using Convolutional Neural Networks
Stacey Taylor and Vlado Keselj
Data-Driven Business Analytics for the Tourism Industry in the UK: A Machine Learning Experiment Post-COVID
Johnson Obogo and Festus Adedoyin
Recommender Systems for Capability Matchmaking
Wolfgang Badewitz, Florian Stamer, Johannes Linzbach, David Dann, Christof Weinhardt and Sebastian Lichtenberger
Exploring the Effects of Internet Memes in Social Media Marketing through A/B Testing
Xue Yang and Takaki Hayashi
IEEE CBI Forum III: Enterprise Architecture and Information Systems Engineering (alongside TEAR and VEnMo)
Chair: Henderik A. Proper
Using Fractal Enterprise Model in Technology-Driven Organisational Change Projects: A Case of a Water Utility Company
Steven Leego and Ilia Bider
Automation of Enterprise Architecture Discovery based on Event Mining from API Gateway logs: State of the Art
Carlos Roberto Pinheiro, Sérgio Luis Guerreiro and Henrique São Mamede
An ArchiMate-Based Approach to ISO 9001:2015 Quality Management: Shifting to IT-Enabled Documented Information
Ana Pereira, Rui Henriques and João Barata
Determining Enterprise Architecture Smells from Software Architecture Smells
Benny Tieu and Simon Hacks
Towards a Systematic Socio-Intentional Framework for Agile Methods Tailoring
Soreangsey Kiv, Samedi Heng, Yves Wautelet and Manuel Kolp
From Service-Orientation to Agile Development by Conceptually Linking Business IT Services and User Stories: A Meta-Model and a Process Fragment
Konstantinos Tsilionis and Yves Wautelet
ITSS 2021 Sessions
Chair: Mikhail Komarov
Notice: The ITSS 2021 will be held on Wednesday, 1st September, in parallel with the forum sessions of the IEEE CBI 2021. Here you can find the list of accepted papers, but its detailed program will be updated in a later moment.
Assessment of Congruence of Unstructured Data Using Text Mining Technology
Denis Kovtun
Energy consumption forecasting as a service
Konstantin Danilov and Svetlana Maltseva
Prospects for the Application of Spatial and Visual Computing for Smart MRO in Aviation
Polina Bortsova and Petr Panfilov
Integration of Distributed Ledger Technology and Modern Smart Grids: An Outlook
Mikhail Komarov, Margarita Markova and Aleksandr Ometov
A fuzzy model for assessing the content's quality impact on the growth of users on the TikTok social network
Anton Nazarov and Dmitry Nazarov
Burn disease data analysis model in SAS UE
Raissa K. Uskenbayeva, Abu A. Kuandykov, Akmaral Kuatbayeva, Aizhan Kassymova, Gulnar K. Kuatbayeva, Botagoz Zhussipbek
Development biometric IoT access control system for employees at the KazPost branches
Raissa K. Uskenbayeva, Abu A. Kuandykov, Akmaral Alikhanovna Kuatbayeva, Aizhan Kassymova, Gulnar Kuatbayeva, Botagoz Zhussipbek and Zhanel Khamzina
Thursday, 2 September 2021
Session I: Information Systems Engineering and Business Process Management
Chair: Ulrich Frank
Team Resource Management Decisions in Software Development Projects
Magne Jørgensen
DECENT: An Ontology for Decentralized Governance in the Renewable Energy Sector
Fadime Kaya and Jaap Gordijn
Are individual mindfulness and stewardship climate success factors for digital transformation projects?
Maik Dehnert and Bennet Santelmann
Business process model plasticity: Measuring the capacity to redesign prior to implementation
George Tsakalidis, Kostas Vergidis and Efthimios Tambouris
Quantitative Deadlock Analysis in Petri Nets using Inconsistency Measures
Elina Unruh, Patrick Delfmann and Matthias Thimm
Checklist-based Support of Knowledge Workers in Robotic Process Automation Projects
Judith Wewerka and Manfred Reichert
Session II: Enterprise Modeling, Engineering and Architecture
Chair: Maria-Eugenia Iacob
Attributes relevant to antifragile organizations
Edzo Botjes, Martin van den Berg, Bas van Gils and Hans Mulder
Collaborative discovery and enrichment of business process models using a semantification approach
Yevheniya Derevyanko, Sérgio Guerreiro and Pedro Sousa
Application of Interorganizational Business Capability Maps in Different Forms of Horizontal Enterprise Architecture Collaboration
Fatih Yilmaz and Florian Matthes
An Industry 4.0 Asset-Based Coordination Artifact for Production Systems Engineering
Stefan Biffl, Juergen Musil, Angelika Musil, Kristof Meixner, Arndt Lüder, Felix Rinker, Danny Weyns and Dietmar Winkler
Keynote Session: Prof. Ernie Davis
Automating Commonsense Reasoning – Where Do We Stand?
Chair: Marco Montali
It is generally agreed that current AI systems are limited by their lack of commonsense knowledge and commonsense reasoning. However, there is no agreement on how to achieve those or even what they consist of. My talk will survey the state of the art. Why is common sense important for AI applications? What has been achieved? What remains challenging? What approaches have been taken, and what are their strengths and weaknesses?
Friday, 3 September 2021
The Future of E.M.E.A
Chair: Henderik A. Proper
The fields of enterprise modeling, enterprise engineering, and enterprise architecture (EMEA) seem to be "under pressure". New enabling information technologies such as AI, Digital Twins, Block Chain, IoT, etc, appear to have a stronger interest and appreciation from funding sources. Specific concerns with high societal relevance and exposure, such as, compliance & regulation, optimization, and cyber security, also seem to draw away attention from the coherence, coordination and integration oriented perspectives that are core to the EMEA fields. Furthermore, the nature of the EMEA fields also makes it that they are, at an overall level, multi-disciplinary, involving many aspects, and integration, of computer & information sciences, management sciences, and social sciences. The latter also means that the EMEA fields spawn between the "worlds" of IEEE, ACM, and AIS. As a result, it looks as if the, already fragmented, EMEA fields increasingly lose ground, while also becoming increasingly fragmented. At the same time, it is not all gloom and doom. There is evidence, from industrial practice, that the coherence, coordination and integration oriented perspectives of EMEA is direly needed. Now more than ever.
The goal of this session is to kick-start a series of on-line discussions/webinars to discuss the future of the EMEA fields. This will include themes such as: future research agenda, formation of a stronger network, better communication/PR, dedicated special issues and journals, joint research proposals, etc. We also plan this series of discussions/webinars to "visit" future events such as EDOC, ER, EEWC, and PoEM. So, if you are active in the EMEA fields, and care about its future, then please join the discussion on:
Zoom channel: https://tinyurl.com/emea-cbi-zoom
Discord server: https://tinyurl.com/emea-discord
Keynote Session: Prof. Cesar A. Hildago
The Design and Implementation of Data Distribution Systems
Chair: João Paulo A. Almeida
During the last couple of decades, the world saw numerous open data efforts that fell short of expectations. In this presentation, I will present the story of a long-term research effort, starting in academia and then moving into industry, focused on the design and delivery of several data distribution systems, including among others, the Observatory of Economic Complexity (oec.world), Data USA (datausa.io), and Data Mexico (datamexico.org). I use these examples to illustrate the common technical, institutional, and organizational challenges involved in the creation of data distribution systems, and show how these systems are used today to derive insight from data.
Session III: Business Innovations and Digital Transformation
Chair: Elena Kornyshova
Accelerating the Transformation? The Impact of COVID-19 on the Digital Maturity of Retail Businesses
Ann-Kristin Cordes and Niclas Musies
Requirements for Digital IT Consulting Services and their Provision through Digital Consulting Platforms – Results from a focus group study
Meikel Bode, Maya Daneva and Marten van Sinderen
A Review of Digital Maturity Models from Adaptive Enterprise Architecture Perspective: Digital by Design
Nujud Alsufyani and Asif Qumer Gill
Industrial Corporation's Transformation into a Digital Platform Provider: A Case Study on Enablers
Lara Riefle, Marcel Eisold and Carina Benz
How DevOps capabilities leverage firm competitive advantage: A systematic review of empirical evidence
Olivia Plant, Jos van Hillegersberg and Adina Aldea
Governance and Communication of Algorithmic Decision Making: A Case Study on Public Sector
Eric Jonk and Deniz Iren
Session IV: Artificial intelligence for Business, and Data-Driven Business Analytics and Applications
Chair: Wolfgang Maass
A Conceptual Framework for Applying Artificial Intelligence in Project Management
Gunnar Auth, Jan Jöhnk and Dennis A. Wiecha
Improving Process Discovery Results by Filtering Out Outliers from Event Logs with Hidden Markov Models
Zhenyu Zhang, Ryan Hildebrant, Fatemeh Asgarinejad, Nalini Venkatasubramanian and Shangping Ren
Improving the data management capability at a Dutch pension fund service provider
Marco van der Winden, Bas Van Gils and Hans Weigand
"Ideation is Fine, but Execution is Key": How Incumbent Companies Realize Data-Driven Business Models
Hergen Eilert Lange, Paul Drews and Markus Höft
Conceptualizing Data Ecosystems for Industrial Food Production
Calvin Rix, Hannah Stein, Qiang Chen, Jana Frank and Wolfgang Maass